Jane Eifler: System and Syntax
April 30 - June 4, 2016
A solo exhibition of Jane Eifler's paintings, drawings and collages from the past 5 years.
Essay by Chelby King
Vitality and dynamism shown through color are the most striking aspects of Jane Eifler's show of new works featuring drawings and paintings using mixed media and collage elements. The works involve an elaborate vocabulary of nonrepresentational worlds in floating expanses of color. This collection is not about a specific narrative or even a familiar composition, but each is meant to be a visual experience about surface, shapes, texture and layers of material. The larger works are busy, but controlled and directly engage the viewer if for no other reason than for their size and gutsy-but-sophisticated color combinations. One can credit the paintings' undeniable appeal to these same qualities. Eifler's works on paper and on canvas, no matter the scale, offer a spectacular aesthetic environment with no conceptual or moral designs on the spectator. Her colors and patterns reference pop culture and fashion, perhaps not surprising considering that in her first career she worked as Assistant Editor for Accessories at Vogue in New York. In many of the works, however, finger smears, drips and brush marks signify their status as fine art. The especially accomplished works are oil paintings where very capable, large, nonfigurative expression in paint refutes the view that painting has nothing to offer. The experience of painting sets it apart from all other media.
Eifler and others continue to paint, even though national magazines and art institutions are interested in newer arenas: digital, interactive, performance, and installation. For Houston, however, interest in painting has never gone away, due in no small part to the talented faculty at University of Houston where Eifler received her graduate academic training under the stewardship of Rachel Hecker (Associate Professor of painting at the School of Art who enjoys critical success as a painter and, more recently, a sculptor). Eifler is not unaware of institutional and critical trends that seem to raise doubts about the viability of painting to contemporary artistic practice. Her recent site-specific installation of photography collages on a commercial scale at Lawndale Art Center highlights that point.
Eifler is finding her identity as an artist who, although still early in her (third) career, has mastered the use of color and is making art at an advanced level of maturity. Evidenced by the artist catalogs in her studio, she is in a formal dialogue with Marilyn Minter and is a successor to Tom Wesselman. While trying to offer the viewer something you haven't seen before, which can be hard to do in painting, she is committed to her practice. Eifler consistently creates work that is pleasing to look at and holds your interest. She is doing it with authenticity, flair and integrity of purpose.
Jane Eifler finished her graduate degree in painting at UofH in 2008 and has a Bachelor's degree in studio art from University of Texas at Austin. Her solo show in the Gracie Cavner Gallery at Lawndale was in 2012 and since graduating, she has exhibited at Spring Street Studios, McMurtrey Gallery, McClain Gallery (a 2012 group show curated by Aaron Parazette), Art League Houston, and nationally at the Hillyer Art Space in Washington, D.C. (a 2015 juried group show) and at the University of Arizona Museum of Art.
A Puzzle, mixed media painting, 2016
Electric Totem, collage on paper, 2016
Fandango, second-generation collage and mixed media, 2013
Landing, collage and ink on paper, 2016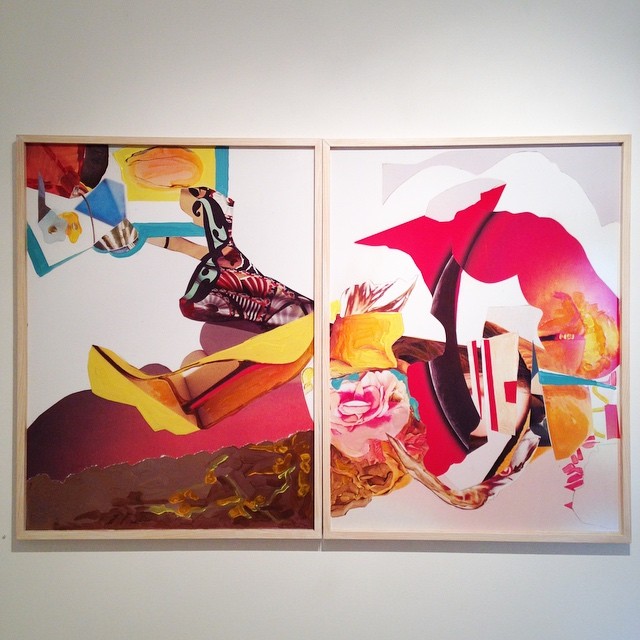 Shopper I + II, mixed media diptych, 2013
Sugar Descending, collage and pencil on paper, 2015
Secrets, second-generation mixed media and collage, 2013
Chain Reaction, collage and ink on paper, 2015
Collection, mixed media on box substrate, 2014